Siren, On Repeat
Patti Kimball learned about grief early in life. At the age of fourteen, her best friend Aprile died suddenly from a congenital heart condition. Aprile was a light in Patti's life and a pillar of her community; she was brave, kind, and sensitive to the needs of people she cared about. Her absence was deeply felt by her friends and family.
Left to cope with Aprile's tragic loss during her most formative and tender years, Patti became resilient by following Aprile's example. Patti nurtured her own grief, allowing herself to feel and show emotions without shame. She also nurtured those around her, maintaining a close group of friends who supported her throughout her life. But her journey wasn't easy; Patti's grief was raw, real, and emotional. People weren't always kind to her as she mourned her beloved friend, and she was forced to learn the power of forgiveness.
Lush with nostalgic 1980s images and by turns sweet, funny, and heartbreaking, Siren, On Repeat: What My Best Friend's Death Taught Me About Hope and Grief is a unique memoir that heals through storytelling. By sharing her own experiences through relatable and eye-opening anecdotes, the author offers healing and hope to both herself and the reader, shining a light onto a dark path and honouring the memory of a cherished girl who did so much with her short life.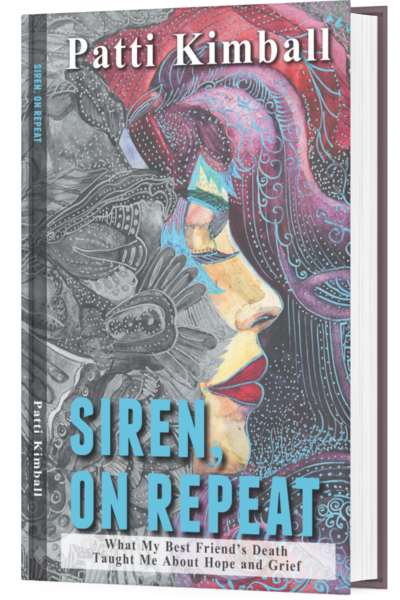 Other Ways To Purchase The Book:
"Practical methods for managing long-term grief."
"Siren, On Repeat is an elegiac memoir about an ebullient friendship cut short by death—and about practical methods for managing long-term grief. The prose is forthright and uncluttered. Its structure matches the story's actions and tones, with longer sentences devoted to more reflective passages." read more...

"A deeply authentic and wise reflection on grief and recovery."
"For the first time, the author was forced to comprehend the shock, sadness, and guilt that come with a loved one's death. In this moving memoir, Kimball effectively employs dramatic tension and unique details to show how she and Aprile built a foundation for their friendship, which effectively gets across the profound impact of the sudden loss." read more...